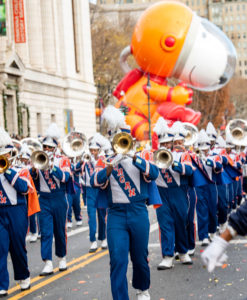 Rising early to watch the Macy's Thanksgiving Day Parade on television is an annual holiday tradition in the Fabiyi-King household, in Hyattsville, Maryland. But last fall, the family had a special motivation to see the event, up close and live. This past Nov. 28, Justin Fabiyi-King, an information systems major in his junior year at Morgan State University, led the MSU Marching Band — a.k.a., the Magnificent Marching Machine — on a 2.7-mile course through Manhattan, in New York, for the 93rd iteration of the parade. The occasion marked the band's first-ever appearance in the event and was only the fifth time in the parade's history that an Historically Black College or University (HBCU) was featured. The band's high-energy performance was witnessed by an estimated 3.5 million spectators in New York and 22.1 million television viewers nationwide.
MSU President David Wilson was the impetus for the historic march, said Melvin N. Miles Jr., director of University Bands at Morgan since 1985. The president suggested that Miles apply for the marching band to perform in the world-famous event.
"I felt that if we applied, we'd be accepted. I felt rather confident in that," said Miles, who ranks the band's appearance in the Macy's parade high on a long list of prestigious MSU musical performances he has directed over the years. That list includes the marching band's annual participation in the Harlem Day Parade for nearly 30 years, the Magnificent Marching Machine drumline's performance for President Obama in 2016 and, most recently, the band's joint performance with Baltimore's Marching Ravens band on the field of M&T Bank Stadium before nearly 71,000 football fans.
As a fourth-year member of the band, Fabiyi-King, an alto saxophonist, is likewise inured to big performances. But he admitted before the parade that, as a first-year drum major, he might feel some nervousness at the start of the event. In the end, hard work and daily rehearsals prevailed, as the Magnificent Marching Machine "killed it," as they say, in New York City. Morgan's band held the distinct honor of leading the parade participants along the route and was the first marching band performance on the famed Macy's Thanksgiving Day Parade star.
"…When you do something like the Macy's parade…and you get those mentions on television, it advertises the University across the board," Miles said. "It drives alumni, who are givers, and it may drive some students who may be attracted to Morgan and enroll. So it has its purpose."
"But for me, personally, what I'm always excited about is the opportunity that students have," Miles added. "If I can be a part of something that gives the students a significant memory, a different kind of opportunity, then that, for me, is an extremely important personal gain."