What Lies Ahead
As Morgan State University's Murphy Fine Arts Center approaches its 25th anniversary, University administrators are looking to continue the Center's prominence as a destination for arts and culture and for nurturing the next generation of college performers. The quarter-century mark signals a prime opportunity for the Murphy Fine Arts Center to fully embrace its evolution, adopting and adapting to the latest in arts technology, innovative design and ever-evolving performing arts landscape.
"The University has received much well-deserved praise in recent years for the planning, design and construction of our newest facilities, from CBEIS to the Morgan Business Center to Jenkins Hall Behavioral and Social Sciences Center to Tyler Hall," says Morgan President David K. Wilson. "The blueprint of that success was realized under the previous administration's vision to deliver a world-class fine arts edifice to serve our students and attract diverse arts devotees from throughout the region to our historic campus. As we look to Murphy Fine Arts Center's future, we will exercise our due diligence and devise a work group to explore what denotes a modern 21st-century arts education and performance center."
Recognizing the importance of adapting to modern trends in the performing arts space, a future Murphy Fine Arts Center would centerpiece emerging programs in digital arts, further integrating technology into its classrooms and studios and empowering students to delve into new frontiers of artistic expression. Virtual reality and augmented reality installations that enable artists to create immersive experiences that transcend traditional boundaries represent a likely trajectory for a renewed Center. Additions in this capacity will provide more space for art studios and labs, equipped with the latest digital tools to enhance the creative environment for aspiring artists across various disciplines and will foster dynamic, collaborative learning atmospheres for students.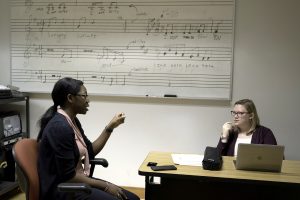 Beyond the physical enhancements, the Murphy Fine Arts Center's future lies in fostering collaboration between diverse artistic disciplines. Cross-disciplinary programs and events that allow instrumentalists, vocalists, visual artists, actors and dancers to collaborate on groundbreaking projects that challenge artistic boundaries will be an area of great opportunity.
Marrying tradition and innovation will be central to any proposed future upgrades or modifications to the Murphy Fine Arts Center. Across Morgan's sprawling urban campus, Morgan Vice President for Facilities, Design and Construction Kim McCalla and her team have been very intentional about preserving Morgan's natural charm and storied history while integrating modern amenities and state-of-the-art facilities. Envisioning what the future holds for Morgan's performing arts center will be no different.
According to McCalla, there are a number of short-term plans on the docket for Murphy Fine Arts: "I know we have some renovations and structural things that we need to do to the building now. We'll change the flooring out and change the furniture out and give it a whole upgrade physically with that…give it a refresh."
As for long-term plans and the potential for expansion, "it really depends on what the public wants, what the University wants, what the University needs. I think as a part of our master plan that's going to come up," adds McCalla.
"As we do with all our buildings, we select the architect that is best suited for the project. So, with our science building, we look for architects who have science-related experiences. It would be the same thing for Murphy. We would look for an architect that is experienced in the performing (and visual) arts: art, music, all of it, not just one genre or another," she continues.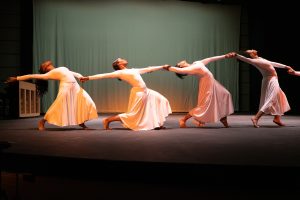 Any future enhancements made to Murphy will be executed in a reaffirming fashion that reinforces its position as a premier venue, attracting top-tier performers from around the world and solidifying Morgan State University as a cultural epicenter.
"Murphy Fine Arts Center served a very valuable purpose, filling a noticeable void in the Black arts community here in Baltimore when we opened more than two decades ago," reflects Wilson. "Morgan takes great pride in being a standard bearer for the advancement of arts and culture through this remarkable center and will ensure its greatest potential is realized for performing arts students and art patrons today and in the generations that follow."
The next 25 years of the Murphy Fine Arts Center will be a testament to Morgan's dedication to artistic excellence and innovation. With expanded facilities, incorporation of digital arts, modernized performance venues and emphasis on collaboration and inclusivity, the center will stand as a beacon of inspiration and opportunity for tomorrow's artists, continuing to shape the future of arts and culture in Baltimore, and the region, for years to come.