Success in Inclusion and Local Hiring
Morgan State University had a goal of excellence for the design and construction of its newest building, Tyler Hall, and it also set high standards for the project with regard to inclusion and community impact. The data show that MSU was successful on all fronts.
Funds spent with minority business enterprises (MBEs) on the design portion of the project totaled approximately $2.8 million, or more than 41% of the contract value, exceeding the goal of 40%. The 34% participation rate of MBEs in the construction contract likewise passed the project goal (30%) and sent $22.1 million to minority-owned enterprises.
Morgan set a target for Tyler Hall's construction manager, Barton Malow Company, to hire 19 individuals who resided within the Morgan Community Mile, a 12.2-square-mile area within a one-mile radius of the campus, where the University has committed to engaging in university-community partnerships to make the community a better place to live and work. By the time the project was completed, in April 2020, Barton Malow and its subcontractors had made 51 such local hires, including 16 project management staff: 268% of the goal.
Rochester, New York, native Brian Goodykoontz, 35, brought his growing family to Towson, Maryland, in 2009 when he landed a construction management job with Barton Malow. He later moved to downtown Baltimore City then to a house within the Morgan Community Mile, closer to his work as a project manager on Tyler Hall. He's grown close to his teammates, who include a number of Morgan students and graduates, Goodykoontz said, and he was instrumental in Barton Malow's search for local hires.
"We started that process very early on, when we were (on-boarding) our subcontractors. We wrote into our project manual about local employment, and we wanted to make sure we were encouraging them (to do that)…." Goodykoontz said. "And then when the project started, we actually hosted a career fair here on campus for the community, to make sure that they were getting exposure to the subcontractors…. There were some success stories, some local hires that came out of that."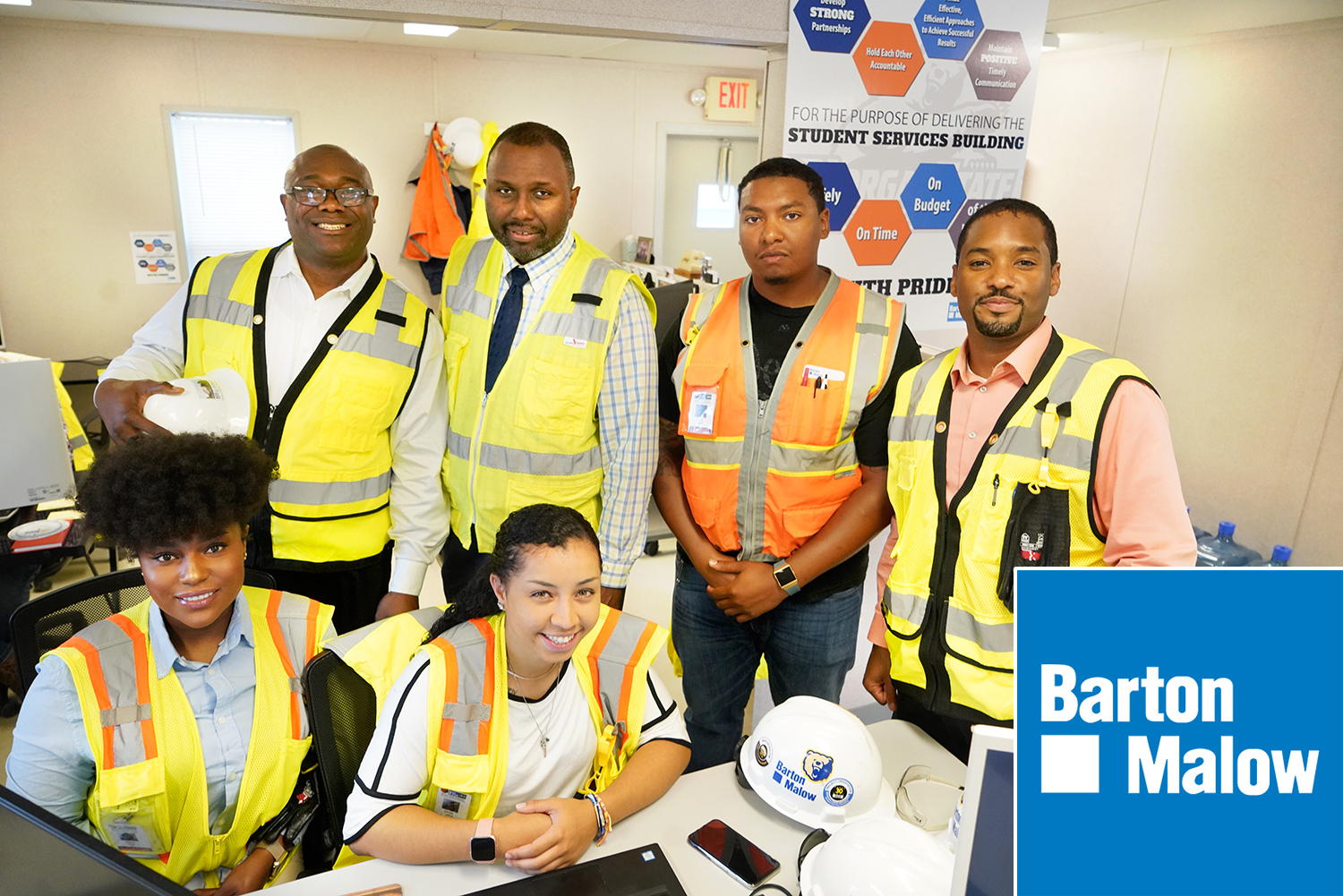 Damali Young of Morgan's Class of 2019 stayed close to her alma mater and took a job as a project engineer at Barton Malow after her stellar career as a Bears scholar-athlete. She said she may stay in the city long term.
"I really do like the area. My sister goes to school here as well…and we want to stay in this area through her graduation. But I've fallen in love with the city and made a lot of good connections here," said Young.
The Tyler Hall project was special to her, she added, "because I live close by, I go to school here (and) all my friends still go to school here. So having them and other people tell me, 'Oh, the building looks so good,' makes me feel pride, because I know that I helped contribute to its success."
Baltimorean Crystal West, another Morgan graduate, felt the same. She worked on Tyler Hall as an employee of JLN Construction Services, LLC, a subcontractor of Barton Malow on Tyler Hall. Her employer's managing member, Namdi Iwuoha, was a strong supporter of the local hiring effort.
"It's special mainly because I went (to Morgan); I have two degrees from here. So it's a personal project for me," said West, who lives within the Morgan Community Mile and plans to remain in the city. "So when I'm coming back for Homecoming and I see this building, (I say,) 'I was a part of that.' "
Baltimore native Benjamin P. Morgan, vice president for Barton Malow, said he believes the Tyler Hall project can be a model for employers seeking to empower the local community.
"…What I've learned is that no matter what you do, you can always do more. That's the lesson behind this," Morgan said. "…If you look at just this example, if every company would do just a small part of that, Baltimore would change, Maryland would change. And that's what should be mandated for all companies…to just do that."