Student Success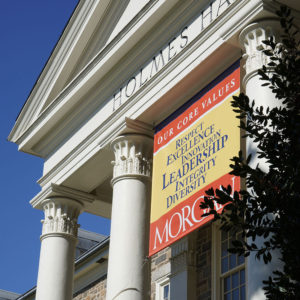 MSU's intense focus on "Enhancing Student Success," Goal #1 of its 2011– 2021 Strategic Plan, has yielded many positive results. Since recognizing its 50,000th graduate, Computer Science major Joseph L. Jones of Baltimore, during the University's Fall 2016 Commencement Exercises,  Morgan has conferred an additional 3,994 baccalaureates and an additional 1,307 master's and doctoral degrees, bringing the total number of MSU graduates to more than 55,000. Key to this achievement was the innovative work the University has done to move its students from matriculation to graduation.
The award-winning initiatives of MSU's Office of Student Success and Retention, part of the Division of Enrollment Management and Student Success, are major reasons why Morgan has achieved its goals for second-year retention, which has remained above 70% since the 2010– 11 academic year. Moreover, the University is also making steady progress toward its "50 x 25" goal, which is to achieve a six-year graduation rate of 50% by the year 2025. The graduation rate for the cohort of students who entered Morgan in 2014 was 46.2%, a significant improvement over the 29% rate for the students who entered in 2005, and the highest rate on record for the University.
In Spring 2020, Morgan's student body comprised more than 7,763 scholars, a number that represented a 7.4% increase over its enrollment in 2009. Disruption by the COVID-19 pandemic caused a surprisingly small 2% dip in student enrollment in Fall 2020 compared with Fall 2019, continuing the University's movement against the trend of steep enrollment declines at many four-year institutions of higher education across the country.
As the diversity of Morgan's student body continues to grow, in line with the University's Core Values, MSU's tradition of success in advancing its original mission of providing higher education to African Americans thrives. Morgan is a leader in Maryland and the nation in producing African-American recipients of academic degrees in many key disciplines.
The enrollment, retention and graduation statistics, and high national and state rankings in degree production, are sources of pride for the University, but even more so are the countless success stories behind those numbers: the accomplishments of Morgan students who have earned recognition for their scholarship and service.